8 Facts about Periprosthetic Fracture.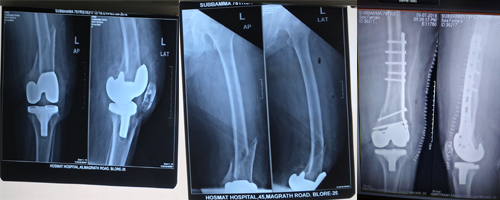 It means a fracture in the bone surrounding the artificial joint placed there, for Eg. fracture around a Total Knee or Total Hip.
Usually occurs due to a fall or, in rare cases, excessive stress or Osteoporosis.
It is important to analyze whether the Prosthesis is loose or well-fitting.
If the Prosthesis is well-fitting, then we can fix the fracture.
If the Prosthesis is loose, then we have to fix the fracture and use a new prosthesis that is longer and bypasses the fracture.
The whole process of treatment is more challenging than treating a normal fracture or only arthritis. More stress to the body. Longer duration of surgery. Slower and longer rehabilitation compared to a normal fracture treatment or an isolated joint replacement.
The treatment cost is also significantly increased because of the special implant requirement, longer stay, and surgery duration.
So, Prevention of fracture in patients with a joint replacement should be a priority. We should educate Patients about Fall prevention changes at home, exercises to keep core muscles strong, use walking aids if necessary, take care of osteoporosis.